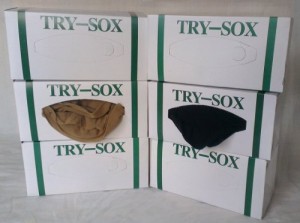 Try-Sox are Hygienic and Disposable foot socks that come in a tissue type box for easy dispensing.
If you are in the shoe industry and looking to offer your customers FRESH and hygenic care EVERY TIME then think Try-Sox International Pty Ltd. We produce HIGH-QUALITY disposable Try-Sox for retail shoe outlets! At these prices, you can offer EVERY customer a fresh new sock to try shoes on before they buy!
Try-Sox understand quality is IMPORTANT in your business!! And that's WHY our single-use hygienic nylon socks are SECOND TO NONE! Never worry about buying different sizes again! Save yourself a PACKET – with our inexpensive range of ONE SIZE FITS ALL!
If presentation matters – put your trust in Try-Sox – where each sock is INDIVIDUALLY dispensed from a "tissue box". Your customer is GUARANTEED they are in good hands – making YOU look even MORE professional! This way they can PERSONALLY take the fresh sock from the box – knowing it's NEVER been used before!
Offer your customers the opportunity to use hygienic Try-Sox! We GUARANTEE – if they feel fresh and clean putting on your shoes – they'll want to BUY your shoes! Take the challenge – and see WHY our nylon socks are a proven selling aid for retailers Australia wide!
Make SURE customers feel assured of their hygiene whilst in your store – put your trust in Try-Sox – where EVERY foot will thank you! Our friendly team is waiting to assist you.